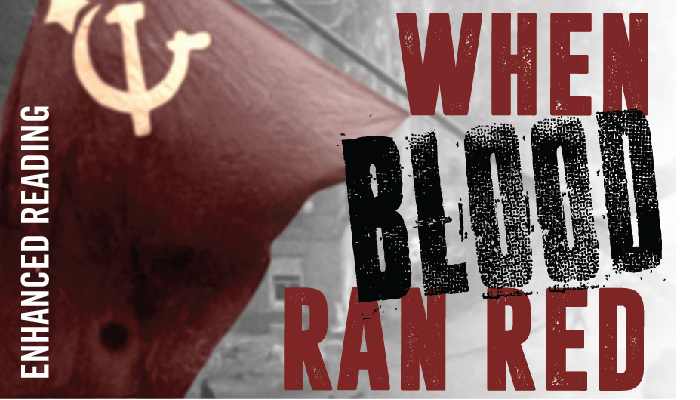 Written by Ben Gonshor and directed by Kenneth Ferrone
Sunday, June 16, 2019, at 2 PM and 6 PM
at the Museum of Jewish Heritage — A Living Memorial to the Holocaust
An exclusive look at this production in development, chronicling the darkest era in the Soviet Union when former wartime heroes of the Jewish Anti-Fascist Committee were persecuted as enemies of the state for daring to report on the truth of the Holocaust in the German-occupied East. It is a story about human nature and the ability to find friendship, forgiveness and love in even the most trying times.
When Blood Ran Red gives an account of the friendships between African-American actor and civil rights activist Paul Robeson and leading Soviet Jews after World War II, during the brutal reign of Josef Stalin. The driving point of the action deals with the removal of the Russian Yiddish theatre and purge of Yiddish and Jewish culture and life in the Stalin era.
FEATURING:
Heidi Armbruster (Time Stands Still on Broadway, Disgraced at Lincoln Center)
William Broderick (Family Dinner, Plane Crazy)
Samuel Druhora (Ragtime – Pennsylvania Shakespeare Festival)
Georgi James (Annie, Billy Elliot on Broadway)
Tyler Kent (Yiddish King Lear, A Marriage Contract – Metropolitan Playhouse)
Zal Owen (The Band's Visit on Broadway; Fiddler on the Roof – national tour)
Bruce Sabath (NYTF's award-winning Fiddler on the Roof in Yiddish, Company on Broadway)
Stephen Barker Turner (Bernhardt/Hamlet on Broadway, Benefactors – Off-Broadway)
Charles E. Wallace (Amazing Grace, Miss Saigon on Broadway)
Lisa Zinni - Costume Designer
Zachary Heffner - Lighting Designer
Daniel Imaña - Sound Designer
Stephanie Gonzalez - Props Master
Jamibeth Margolis, CSA - Casting Director/General Manager
Sean Francis Patrick - AEA Production Stage Manager
Tori Pierce - Assistant Stage Manager
Winner of the NYTF David and Clare Rosen Memorial play contest.
In English.
Tickets: $25